Backup & Recovery Audits
One of the most important aspects of your critical IT defenses is having a well-designed backup and recovery plan. When you have resources in place that allow your backups to function without disruption, your infrastructure can recover quickly from minor issues, prevent disasters and ensure business continuity in the event of a serious breach.
When performed on a regular basis, our backup and recovery audits provide peace of mind that your organization is protected, and they are a great way to confirm that your data is recoverable when you need it most.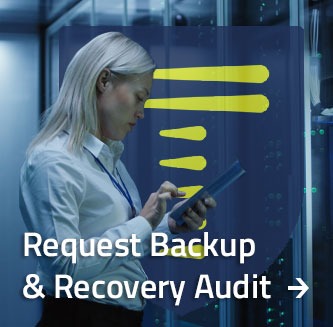 Audit Scope & Process
During the audit, our IT experts will review your past results, backup processes and system architecture. We'll verify that you are backing up your files, and we'll ensure they restore correctly and accurately. Below, we outline the two steps in our backup and recovery audits based on whether you have documentation available for your current processes.
Step 1 – Documentation & Backup Audit
If you do not have your processes documented, our team will begin with a documentation and backup audit. This includes the backup audit itself as well as documentation of your existing backup and recovery processes. We'll also provide steps for restoring your files and recovering your VMs, and we'll discuss how to restore your system when you don't have access to your current systems. Should you need to add additional machines to the backups, we'll go over the best practices to ensure your system is functioning at its full potential. After this initial documentation and backup audit, we recommend repeating the process every three years or upon architecture change.

Step 2 – Backup Audit
If you currently have your processes documented, this step will include confirmation that your backup system can restore files. We'll also actively review your backup processes and confirm your restore process. This step includes screenshots as well as a certification of completion, and we recommend repeating quarterly for maximum protection in the event of a cybersecurity attack.
We're also able to design a program specifically for your organization, so if neither step meets your needs or you have questions about which one is right for you, contact us today.
Ready to Learn More?
If you would like to schedule a backup and recovery audit, contact us today. We can provide an assessment that will review your infrastructure and recommend the best solutions for your cybersecurity needs. We look forward to hearing from you!